Face and Eye Shields
With CE and EN product certifications
Nitrile Butadiene Rubber (NBR)
Nitrile rubber, also known as Buna-N, acrylonitrile butadiene rubber, and NBR, is a synthetic rubber copolymer of acrylonitrile (ACN) and butadiene.  NBR provides high tensile strength and good physical properties at high temperatures. Our top quality YB-DL707 NBR can be used exclusively in the production of nitrile examination gloves. The ACN content range is 28-35%, with typical values of 30-31%. 
UK-China Trading is a procurement specialist in the NBR and PPE supply chain sector. We work with various governments supplying PPE and associated products, and NBR to medium sized glove producers in an effort to support Malaysian and Thai factories with high quality NBR supply. Our partner NBR factory in China has embraced the Continuous Quality Improvement (CQI) process and its NBR is being used exclusively by our clients. We will work with you to provide the best NBR solutions, at highly competitive prices.
If you would like to get a sample of this quality NBR for lab testing, and pricing for the months ahead, please contact us at [email protected]. A COA, TDS, MSDS/SDS will be provided. We supply to Malaysia, Thailand, Vietnam, China, India, Indonesia, Taiwan, Bangladesh and Sri Lanka.
What is NBR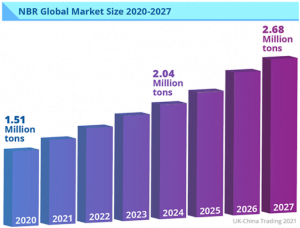 Nitrile butadiene rubber (NBR) is a family of unsaturated copolymers of 2-propenenitrile and various butadiene monomers (1,2-butadiene and 1,3-butadiene). Although its physical and chemical properties vary depending on the polymer's composition of nitrile, this form of synthetic rubber is unusual in being generally resistant to oil, fuel, and other chemicals (the more nitrile within the polymer, the higher the resistance to oils but the lower the flexibility of the material).
NBR's ability to withstand a range of temperatures from −40 to 108 °C (−40 to 226 °F) makes it an ideal material for aeronautical applications.
The NBR market is expected to grow from 1.51 million tonnes in 2020 to 2.68 million tonnes in 2027
NBR and Nitrile Disposable Gloves
The resilience of NBR makes it a useful material for examination gloves with gloves the fastest-growing product category in the global nitrile butadiene rubber (NBR) market. The global disposable gloves market size was estimated at USD 6.8 billion in 2019 and is expected to expand at a compounded annual growth rate (CAGR) of 11.4% from 2020 to 2027.
Nitrile rubber is more resistant than natural rubber to oils and acids, and has superior strength, but has inferior flexibility. Nitrile rubber therefore offers good puncture resistance, chemical inertness, high-temperature range, long shelf life, and high level of sensitivity. These properties make NBR ideal for use in the manufacturing of medical gloves.